Hot on the heels of Melbourne's collective Nutella craze – where it was all Nutella in all things, the beer world is starting to follow suit with a couple of drops to take you screaming back to awkward adolescence.  A time where sour coke bottles were in all 50c mixed lolly bags, and you would slam down a couple of bourbon and cokes at the end of the week.
15 was a weird age.
Recently two breweries released two vastly different beers but on the same theme – cola. I can't recall seeing any other cola-themed beers and now we have two. Is that a trend? I don't know. That's why this is a trend "watch" and not a "trend is-definitely-happening" I guess.
Let's break them down individually and reconvene.
Mash Brewing – Cola Nick (2.9% Berliner Weisse)
I didn't really get the name until someone on instagram pointed out the whole "colonic" play on words. Which when considering the label (see pics) and colour of the beer (again, pics) I'm glad I'd finished it by the time that was bought to my attention.
This is the fourth in their Berliner Weisse/candy/soda themed series brewed out of 3 Ravens brewery in Melbourne. Mash are based just outside of Perth but brew beer for the east coast out of the 3 Ravens site, and these were conceived by talented 3 Ravens brewer, Brendan O'Sullivan.  This one is dear to Brendan's heart, because those that know him will know he loves both the style of beer, and Coca Cola.
To imitate the "cola" taste he's used a range of spices and phosphoric acid (E338).
A quick note on the packaging, I know a lot of people have had been frustrated by the waxed bottle and having to hack away to get to the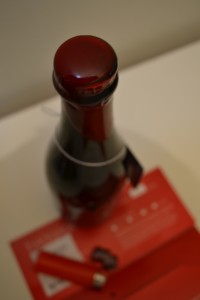 goodness inside. While wax is a big trend in the US, it hasn't really taken off here, with only a few beers coated in the frustration.
Pro tip: Use a lighter to melt the wax away.
Once in and poured into a glass, the end result is an insanely lively (keep chilled and have a glass handy) pretty cloudy looking beer that could be a wort sample from the bottom of a homebrew fermenter or murky river water. Fortunately the aroma and taste are both bright and lemony. With classic Berliner Weisse flavours coming through with a generous helping of brettanomyces and other bugs (the label talks of wild yeast but doesn't go into what) giving everything a tart dryness, accentuated by the phosphoric acid which gives it a cola bite.  It's a real diet-coke with a squeeze of lemon situation.
Boatrocker Brewery – Braeside Crown Cola (8.5% Bourbon Barrel Aged Ale)
With a l
abel that pays homage to RC Cola, and a name that doesn't really imply beer (I thought they had released a cola for a while) I'm interested to see if any government watchdogs took note of this.
Nanny-state aside, this apparently started life as a scotch ale, and when it was pulled from the bourbon barrels they discovered it had bourbon and coke flavours, thus Braeside Crown Cola was born.
This is also pretty murky and instantly bourbon and oak vanillins are present. Initially I'm not getting the cola part. Once it warmed a bit, however, it definitely bought some cola sweetness and a gun-syrup like thickness (gun-syrup as in the post-mix coke stuff you get in those bar squirt guns).
It was warming and slightly cloying and admittedly not too far from a bourbon and coke.
I'm not sure I loved it to be honest. It was fun, unique and definitely had everything it promised but it's been a long minute since I've craved a classic bourbon and coke.
Is this a trend?
Maybe. There's an old saying that tells us "one swallow doesn't make a summer", but do a pair of swallows?
This was the fourth in the Mash series of similar beers, but I wouldn't be surprised if we start getting these sorts of throwback-adolescence beers appearing on the market. When things like pop rocks, candy floss, and Nutella are all over fine dining menus to the point where they are well beyond cool anymore, it makes sense that beer jumps on that bandwagon.
We have seen some similar kinds of things happening, with the Big Shed Brewing Golden Stout Time (based on the iconic Australian icecream, Golden Gay Time) and Moon Dog have done a redskin stout, so it makes sense that these sorts of beers move towards mimicking other drink flavours. Chances are at GABS this year we'll see a Solo or Fanta influenced beer… and probably a Nutella beer. Way to be late on that one, whoever makes it.
I just hope that they are done with positive intent like these two, and not simply trying to make a sweetened gimmick for a few laughs and easy sales.