Screens are almost unavoidable in 2015 and with good reason – your computer and phone have access to a stupid amount of information, games, and endless ongoing social media conversations. Isn't technology awesome?
However I'm sure we have all dealt with the headaches and dry eyes that come with staring at pixels all day. Which is why today's trend is probably just as refreshing for your mind as the industry they are covering is for your mouth.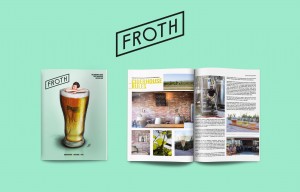 As newspaper and magazine readership continues to fall, people keep saying that print media is dead. Having worked in the media industry for a decade I've always had a different take – sure the big newspapers and magazines are falling off, but small and niche publications still have a firm part to play. I can get my news from a number of websites and in 2015 it's increasingly all looking the same (and usually is). If people are looking to consume print media offline then they more than likely want it to be unique and reflective of their interests, rather than the same news and discussion that has been thrown at them all day on a screen.
A recent trend has seen beer magazines move away from the glossy, bright, subscription based, and probably a little hard to approach from a casual reader's perspective. Now we are seeing gentler and softer looking publications designed to be picked up on a whim at a bar, or ones that don't look out of place in a modern design studio as opposed to a supermarket magazine rack.
Last month Froth magazine launched in Melbourne. A "street-press" style monthly magazine designed for people to skim through while waiting for a friend or drinking solo. Nothing too hard hitting – reviews, and Q&As and columns that explore the brewers and breweries and bars of the city.  We recently spoke to founder, Emily Day, about all things Froth but the file corrupted on our little recording device – so watch for a redo on the podcast soon.
In the UK there is Original Gravity%, now in its 7th issue it is also a free street-press style monthly and uses a mixture of unique layout, short profiles, reviews and some indepth columns. While I haven't held a physical copy, they use magazine publishing website issuu to put everything up online: http://issuu.com/dontlookdownmedia.
Additionally in the UK there is Ferment. Designed to accompany a monthly beer club service from Beer52 it is now in its 19th issue (you can also read it for free online: http://issuu.com/fermentmag). While not a street press in the sense that you can't pick it up in a bar, but rather when receiving it with beer delivery, the end result for the reader is likely the same. It gives it a casual nature and like the previous two has a mix of short and long form articles designed to be considered with a beer in hand. 
Over the ditch in NZ, the Society Of Beer Advocates magazine Pursuit of Hoppiness, is a comparative dinosaur in this space. Beginning in 2011, the quarterly magazine features less short profiles and reviews and more long form pieces as a whole. Again, this is free and distributed in bars and also online here: http://www.soba.org.nz/pursuit-of-hoppiness.
Finally, also launching last month was a quarterly paid magazine from a couple of Aussies based in the USA. Called Pallet, Sam Calagione from Dogfish Head is involved making it the most internationally high profile magazine of the bunch. The creators met while working at Smith Journal in Australia and have since moved to the states and started this. For readers familiar with Smith Journal, the tone will seem familiar and they approach everything from a slightly different angle and use beer to create context rather than it being the entire focus. While this is paid, it is definitely not a glossy supermarket-rack magazine.
While the more traditional style magazines, such as Beer and Brewer and Draft Magazine (among many others), still have their place, this recent change in approach is probably reflective of the changing beer industry around the world. The more niche and targeted publications are a result of beer's increasingly popularity. Now the model of a wide ranging publication aimed at a niche industry has been turned on its head and we see niche publications targeted at a wide ranging industry.