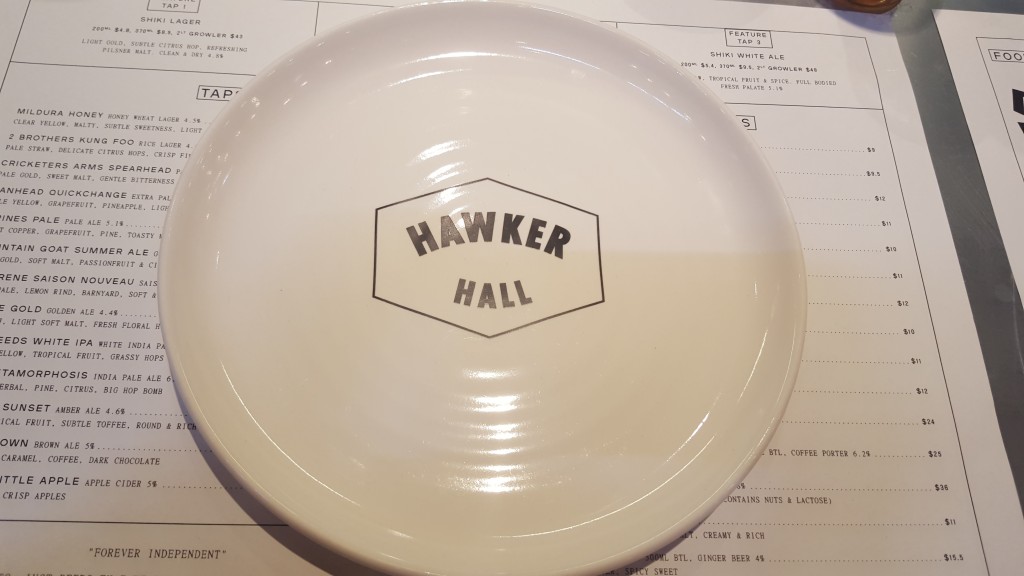 Hawker Hall is the new restaurant from Melbourne restaurant powerhouse Chris Lucas. With flagship restaurant Chin Chin still commanding queues on a daily basis, and sister restaurants Kong and Baby Pizza humming along, the collective Melbourne dining public can't help but gawk with fascination at what the group are doing next.
And as part of the dining public, we are right to gawk. I've dined at Chin Chin a number of times and they have never put a foot wrong. As cynical as I want to be about a trendy restaurant group doing South East Asian cuisine at a higher price point than quality local Viet and Chinese places while packing in crowds like few other restaurants in the world, it's hard to not be impressed by the incredibly slick operation. Rarely are punches pulled with spice and flavour (something that can't be said for most SEA restaurants with that price point) and service is informed and smooth despite two-hour queues, a cavernous restaurant and reasonably lengthy menu.
Also driving my cynicism is the focus on "craft beer" at Hawker Hall. Given Chin Chin resisted including craft beer on their menu for a long time because it was too hard to do at the volumes they needed (according to a few different people I've spoken to) it seems surprising that suddenly they are all about craft beer at massive volume. 16 taps of volume in fact. Three of which are their own contract-brewed beer known as "Shiki", which I'll go into a little later.
Being a card-carrying beer snob, resistant to any outside attempts to co-opt good beer, then my initial thoughts were that it's nothing but bandwagon-jumping. However with such high profile-pedigree giving the beer-bandwagon a nudge then of course it's a great thing for craft beer in Melbourne. I'm still allowed to be jaded about the whole situation. It's just who I am.
What a ridiculous preamble that was.
Dining on a Wednesday afternoon we had no issue getting a spot at the kitchen bar, which to Emma and I is the best place in any restaurant.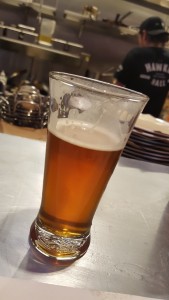 Watching a well oiled kitchen hustle a busy service is an impressive sight and the team at Hawker, only four days into operation, were suitably oily.
The beer list is fine. It's not amazing and at first I was a little disappointed by the number of pale and golden style ales. I don't really see the point of having 16 taps when most are pretty similar in execution. The end result will more than likely be lower-profile beers moving slower and slowing stock rotation.  No one wins in that scenario. Cutting their taplist down to exclude style overlaps would've really had no impact on the choice available.
Because this is a beer site, let's illustrate that.
Here is the taplist when I visited:
SHIKI LAGER
SHIKI PALE ALE
SHIKI WHITE ALE
MILDURA HONEY

2 BROTHERS KUNG FOO

CRICKETERS ARMS SPEARHEAD

PANHEAD QUICKCHANGE

4 PINES PALE

MOUNTAIN GOAT SUMMER ALE

 LA SIRENE SAISON NOVEAU

SAMPLE GOLD

QUIET DEEDS WHITE IPA

KAIJU! METAMORPHOSIS

TWO BIRDS SUNSET

CAVALIER BROWN

2 BROTHERS LITTLE APPLE
And here it is tightened to only 10:
SHIKI LAGER
SHIKI PALE ALE
SHIKI WHITE ALE

PANHEAD QUICKCHANGE

MOUNTAIN GOAT SUMMER ALE

 LA SIRENE SAISON NOVEAU

QUIET DEEDS WHITE IPA

KAIJU! METAMORPHOSIS

TWO BIRDS SUNSET

CAVALIER BROWN

2 BROTHERS LITTLE APPLE
The same choice is still there and everyone has an easier job managing stock, training staff, and line cleaning. Alternatively, fill the six slots with a few different styles to offer actual variety – something sour and something darker than a brown are two glaring omissions.
Saying that though, it is hard to begrudge any place I can get the above range to go with my curry and dumplings.
I chose their house Pale Ale (Shiki) which, going by taste, I'm guessing is brewed by Hawkers Beer in Reservoir – an unrelated namesake (although I could be wrong, the waitress kept mum on the issue and I didn't really care enough to pry).
Unfortunately both that and the La Sirene that Emma ordered came out far too cold and were reversed upon delivery, leading to us trying to work out which was which and then questioning our tastebuds. I know most customers are going to want their beer super cold, but when it's so cold that the two of us couldn't tell between an APA and a Saison then you have issues. A couple of degrees warmer and it was so obvious that we felt foolish.
The food is styled on Malaysian and Singaporean hawker fare and the fitout includes some kitsch hawker market signs on one wall while another displays massive lit-up block letters yelling "FOREVER INDEPENDENT" at diners, which reflects their no tap contract policy. While it's to be admired I would be curious to see how much rotation the taps get and whether or not some just stay the same, with the end result being the same for customers as a contracted tap (there's that cynicism).
While the fitout is a bit neither here nor there the result is a comfortable experience rather than a traditional hawkers market where it's less comfortable and more stuffy, sweaty, and ruled by colourful plastic stools… but with the relative price of both you would hope this version to be a lot comfier.
The history of Malaysia and Singapore gives Hawker Hall licence to span a number of traditional cuisines across a reasonably large menu.
Being indecisive we chose their $55 Feed Me option. A quick assessment of dietary requirements and spice tolerance and away they go.
A parade of wontons with black bean and chilli oil, toasted coconut meatballs, hawker-style noodles, short ribs, duck salad, goat curry, and red bean sticky date pudding followed. While there was a small slip up in the service (we suspect they closed our order before the curry came out) it was rectified promptly and had we not been paying pedantic attention it would have gone unnoticed at our end.
With one exception everything was lively and spicy. The wontons were tender, salty and had just enough chilli oil heat. The coconut meatballs were moreish, the noodles suitably charred and smokey, short ribs fatty and rich and enlivened by chilli and pickled ginger, while our goat curry was sub-continent influenced and came with an almost offensive whack of cardamom right away which was soon joined by an array of other spices and a lovely enduring heat that gave it a joyous balance.
The one let down was the warm duck salad which was a little lifeless in comparison to the whirl of spice in the courses surrounding. Duck is my favourite meat but it became an endurance of bean sprouts rather than fête de canard.
A small disappointment on an otherwise glorious meal, rounded off by the unique take on a classic sticky date pudding that uses red bean and was accompanied by a beautiful coconut sorbet. Paired with the White IPA from Quiet Deeds, I couldn't have been happier. The floral citrus hops, classic Belgian clove and banana dryness elevated the coconut sorbet from sidekick to superhero.
While I still think the taplist could use work, and the serving temperature needs adjusting, and the duck needed more excitement, they are but incredibly pedantic gripes on an otherwise note-perfect experience.
It's the kind of place I will return to. The kind of place I will bring friends and recommend to tourists and visitors. The kind of place that literally just stuffs exciting food into the mouth of cynicism until it relents with a satisfied sigh.