Part two of my USA mini-focus is taking a look at a couple of beers that are very new to the country and not your typical "oh my god hops right?" American IPAs/Pales/BIPAs etc.
I think it's great to see a more diverse segment of their beer scene being represented here in Australia. We all know the Sierra Nevada, Green Flash, Bear Republic and the like, but there is a lot more going on.
The first, food, part of my mini-focus is here: Dr Juicy Jay's Crab Shack
Jester King – Boxer's Revenge
 Jester King beers intrigue me greatly. They describe themselves as an "authentic farmhouse brewery" – far removed from the aforementioned hop forward US beers, they use barrel aging. natural or wild yeast and certified organic ingredients to set themselves apart.
This one, Boxer's Revenge Barrel Aged Wild Ale, is burnt orange in colour and hits you right away with a funky sour aroma of leather, pineapple, guava and blue cheese.
It drinks similar to it smells. Leathery brettanomyces (a kind of yeast), pineapple, and dry with a very tart big grapefruit juice finish
No way does it taste 10.2% and is fairly drinkable given all the interesting facets.
For those familiar with Bob's Armpit, out of Wig and Pen in Canberra (and I know many of you Melbourne folks are after this year's
Good Beer Week), imagine a bigger, more sour version.
This tart, sour, leathery, tropical beer would be a perfect match to some refreshing lemon sorbet to help complement the flavours and serve as a bit of a palate cleanser as you go.
Cost was $28 at Slowbeer in Melbourne – coming in a 750ml bottle.
Also worth mentioning the amount of information on of Jester King's beers. As much info as anyone could want. Ingredients, right down to the yeast, OG and FG. A goldmine for homebrewers and beer lovers.
Next up…
Brash Brewing – Smoglifter
I love the artwork on this bottle. It reminds me of Fallout 3. I have lost a lot of time to that video game so such a label definitely appeals to me.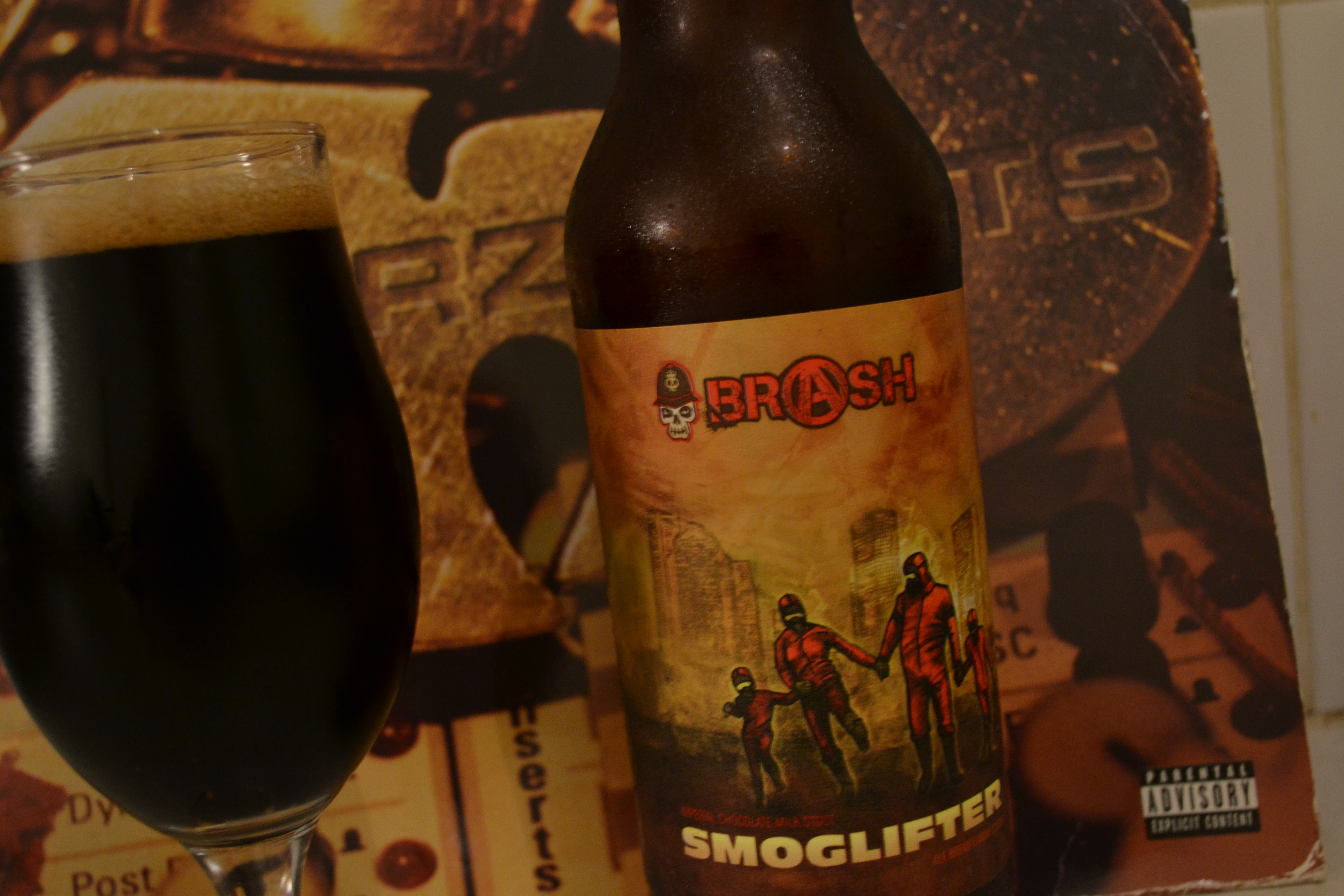 Also from Slowbeer, it's a 650ml bottle for $19 and is 10% Imperial Chocolate Milk Stout. (For those unawares, milk stouts are brewed with lactose – a type of sugar derived from milk. Not with milk thrown into the beer or anything).
The best way I can describe this is fairly smoggy and dirty. Probably down to the imagery being put in my head by the name… ok definitely; but given it pours pitch-black and has a dirty brown head, it isn't a huge leap to make.
It smells slightly ashy with a lot of powdery cocoa to back it up. It tastes and feels similar –  not clean rich and silky but a little ashy and dirty with the cocoa carrying through and some sweetness to finish.
Very rough around the edges it might stand to a few more months in the bottle.
I'm going to say I'm not completely convinced on this one. The artwork was more interesting to me than the beer itself. It all just felt a little clumsy and well… smoggy.
Also Try:
Some other beers from the USA that I've been loving at the moment that may be flying under your radar:
Clown Shoes – Hoppy Feet  – A black IPA from Clown Shoes brewery, these guys have a few interesting beers but this is definitely my favourite. A huge rich BIPA that has endless layers of resiny juicy hops all supported by rich dark malt.
There is a "1.5" imperial version on shelves at the moment but I felt that was a little off-balance. The original is my favourite for sure.
Devil's Canyon – Cali Sunshine RyeIPA – An English style IPA brewed with rye, this one comes in a big 473ml can. I don't think I've encountered an English style IPA with rye but it really works. English hops with their gentle fruit and earthy aromas combined with the spice that rye brings is a real winner in my eyes.

Stillwater – Stateside Saison – A classic saison base from Stillwater this one has the extra punch of NZ and USA hops to lift it to something unique. Bottle conditioned, this is the kind of beer you can put on a table at a dinner party and have everyone enjoy from pre-dinner to dessert.
And thus ends my USA mini-focus. Only two posts but I hope I covered some of the more interesting things that you can get your mouth around. Also note, I tried to use some albums that are unmistakably American as the backdrop for these photos. I'll shout anyone who can name them all a free American beer… but I really bet you can't. There's 5 in total.