A first in Australia, Collingwood's The Craft & Co will be adding an ancient step to some future batches of beer.
Historically amphora were used to store and transport a number of goods, both liquid and dry, and date back many thousands of years to prehistoric times.  Over millennia, clay vessels were superseded in wine and beer by oak, and in more modern times, stainless steel. However the last decade has seen them increasingly back in vogue in the wine world, and now brewers are starting to explore the unique properties of clay amphora.
While a couple of breweries have experimented overseas, and they are found in the wine industry locally, we are yet to see a local brewery use one in Australia (Late edit: Hallertau in New Zealand are using one for fermentation at the moment). The Craft & Co, in Melbourne, is about to change that. Recently taking delivery of an 800 litre Amphora, they expect to have their first brew conditioning within a month.
So what is it and what will the beer be like? Greg Mace, head brewer at The Craft &  Co, told me he doesn't really know what to expect. While he says the beeswax-lined clay may not impart a lot of flavour, the shape and oxidation will likely play a big role in the resulting beer.
"It's more the oxidisation. The idea is we'll do a test one, and depending on the style we'll do, we'll give it several months I imagine. If we ferment in it we'll kind of have to suck out the yeast from the bottom before we condition."
Their plan is to brew either something inspired by ancient brewing, either by using spelt, honey; or by making a wild fermented beer.  The latter will give them a chance to find out what yeast and bacteria they have floating round The Craft & Co itself. In addition to being a brewery, it's a deli, bar, coffee roaster, distiller, and hosts regular classes featuring cured meat or cheese making.
"There's a lot of yeast coming from the deli, the meat, and the cheese room", said Mace.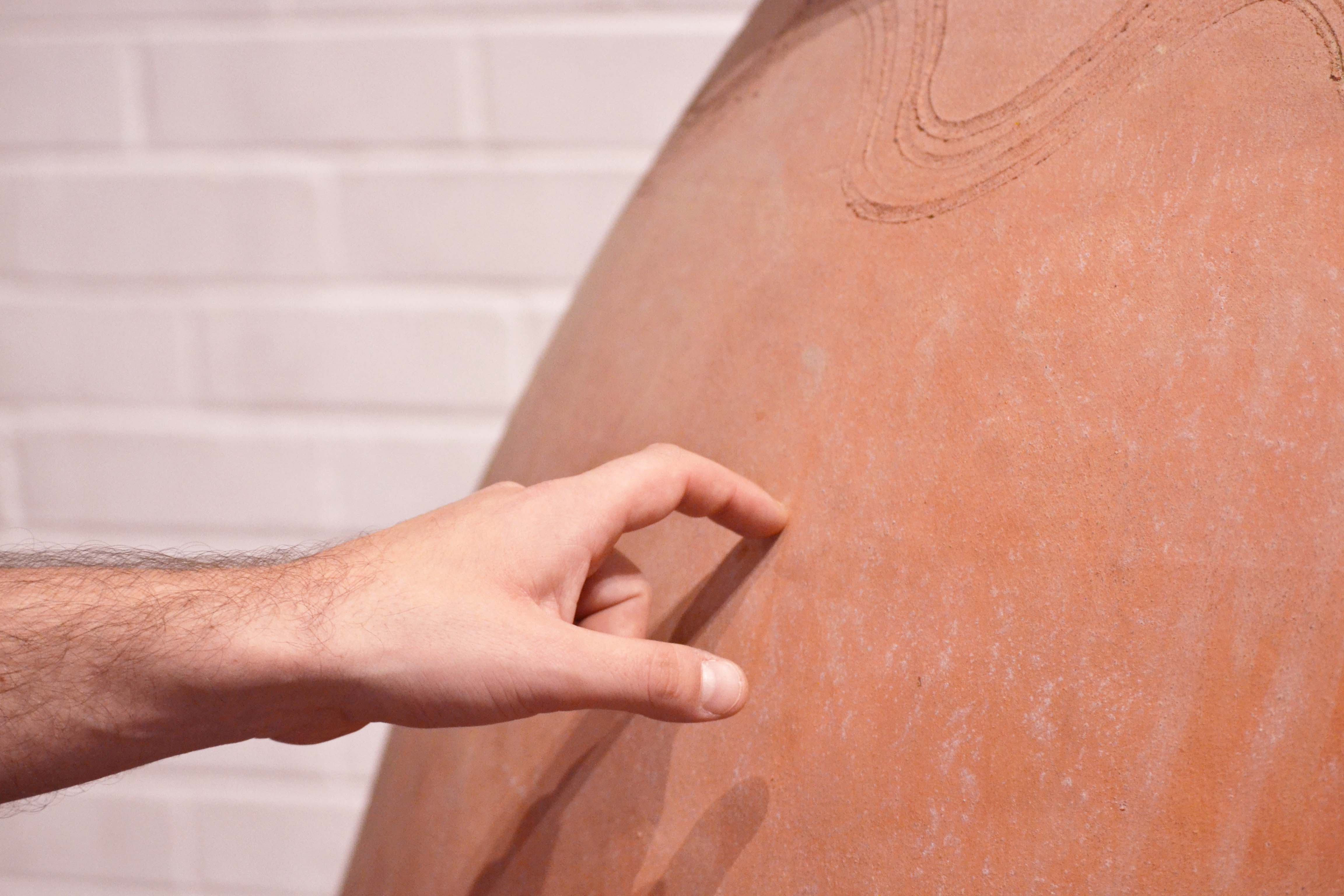 Other than the potential for bugs and yeast from the atmosphere, the clay itself is very porous and will soak in whatever liquid goes into it. However the first thing going in will be plain old water.
"I've been told so many conflicting things so I'm kind of just going in on my own. I've been told [in order] to commission it some people say to put it on an old mattress, on its side, and hose it out; but I was like 'the thing weighs half a ton' so I don't really want to roll it.  Everything from commissioning to using it – to everything else I've heard from wine industry people and what has been said from people using it in the beer industry – [there are] constant clashes. So I'm pretty much going in blind".
Overseas, Cantillon have been experimenting with fermentation in Amphora for a couple of years; although results have only been released to the public in small amounts. Cantillon head brewer Jean Van Roy told All About Beer magazine last year that the impact on his lambic wasn't ideal, calling the results "earthy" and "unbalanced". However since blending it with his oak-aged lambic he is happier with the results.
Italian brewery Birra Del Borgo released a beer in collaboration with Dogfish Head, Birra Baladin and molecular archeologist, Dr Pat Mcgovern in 2012. While Benson Brewery in Omaha (USA) also uses Amphora for some fermentation.
The Craft & Co will be joining this very small club soon.
"We are organising to clean it next week, then we'll fill it with filtered water for two weeks and by that time we'll have a recipe to put into it", Mace said, before adding "it's going to be fun".
You can learn more about Greg and the Craft & Co, as well as his role in Technical Sales with FB*Propak in this podcast that featured him and the Crafty Pint from a few months back.