Contracts signed for The Espy Hotel
The Espy Hotel in Queenscliff is set to undergo some exciting changes, with contracts recently signed for new owners to take over the freehold and business in the coming months.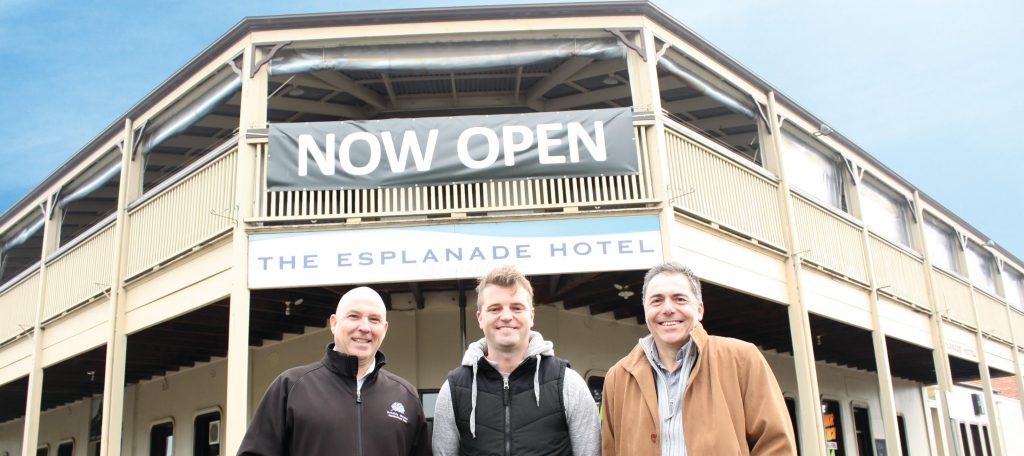 Founded in 1879, The Esplanade Hotel is well-known to locals and visitors of the much-loved seaside town. The new owners hope to reinvigorate the treasured icon, whilst still retaining the historical charm of the hotel, which will be renamed 'The Queenscliff Brewhouse' once the business formally changes hands.
The hotel has been purchased by a consortium of owners including shareholder, Otway Brewing, makers of Prickly Moses handcrafted beer. Otway Brewing, located in the small town of Barongarook 10 minutes south of Colac in the Otway hinterland, opened its doors in 2007 at Otway Estate Winery and Brewery. Nearly 10 years on, Otway Brewing's craft beer label Prickly Moses and cider label Forbidden Fruit Cider, can be found in bars, bottle shops and restaurants around Victoria and interstate.
In March 2015 the Otway Brewing team opened The Great Ocean Road Brewhouse in Apollo Bay, which has been successfully trading as Apollo Bay's first craft beer pub ever since. The Queenscliff Brewhouse will follow a similar model, featuring craft beer, regional wine and local produce.
"We have big plans for The Queenscliff Brewhouse", said company director Andrew Noseda.
"There are some things which we hope to achieve before Christmas, like increasing the number of taps from 8 to 20 in the main bar, and other plans which will unfold over the coming years".
"The introduction of a pub specialising in craft beer has been very well received in Apollo Bay", continued Mr. Noseda. "As in Apollo Bay, we plan to open a tasting room in Queenscliff where people can try local beer, wine and produce and experience what the region has to offer".
"We want The Queenscliff Brewhouse to be a place where everyone feels welcome", said Mr. Noseda. "Whilst we want to showcase local craft beers and regional wines, we will also accommodate drinkers who prefer a more conventional drop".
The Espy is currently staffed by a small team, all of whom will be offered continued employment at the hotel.
"Staff are our number one asset", said Mr. Noseda "and it's important to us that the existing staff are part of the new team and the next phase of the business."
Fellow company director, Luke Moore, will take operational control of the hotel following six years managing the Wye Beach Hotel in Wye River.
"Luke will be a fantastic asset to our business and we're extremely pleased to have him on board with us", said Mr. Noseda. "We're very excited to be starting this new venture in Queenscliff and we look forward to welcoming people to the venue when we take over", finished Mr. Noseda.
The new owners hope to take possession of the hotel in August.