The first of two posts about my visit to Hobart looks at the new and the old. This is certainly not all Hobart has to offer in the way of beer, which I'll explore further in my second post.
Hobart lays claim to having the oldest brewery in Australia in the form of Cascade Brewery. It also has some of the youngest. I went in search of both, and found the differences between the two were vast but both have their place and importance to Hobart's culture.
My first stop in Hobart, not long off the plane, was Hobart Brewing Company. While their brewery is still in a state of install, co-founders Scott Overdorf (also the brewer) and Brendan Parnell gladly poured me a Harbourmaster Ale from their keg tap, and told me of their plans.
The beer is subtitled "Tasmanian Ale" and was sold to me as their take on an Australian hopped ESB. It certainly had similar characteristics to a classic ESB but also had vibrant Australian hop characters of stone fruit and melon, along with a strong bitterness. At 4.4%, the offer of a second was not unwelcome.  It didn't feel out of place on a summer day, and I imagine it would do just as well while in the midst of a cold Hobart winter.
With eyes to open soon as a brewery bar offering a core range that reflects Tasmanian ingredients and tastes (along with a pilot system for brewery experiments) their harbour side locale and sexy wall (see photo above) will soon be joined by steel and iron throughout the venue that will complement the industrial harbour feel. Additionally there is a planned council-led revamp of the surrounding area that includes food truck park on the city side with a view right through to Mount Wellington.
With a fledgling brewery, already making a standout beer having such proximity to local tourist attractions and community hubs such as the Salamanca Markets and MONA Ferry, you can't help but think Scott and Brendan are making the right moves to help usher in the next era of Hobart beer.
The next day, it was the history of Hobart beer I set my eyes on, with Australia's oldest operating brewery just on the other side of the city. I'd heard great things about the Cascade Brewery tour and have been told by many people that it is a must do when in Hobart. Putting all preconceptions aside, I joined with gusto (note: actually I was pretty buggered from mountain biking earlier so gusto was more "lethargic passing curiosity").
In contrast to the industrial surrounds of the Hobart Brewing Co, the Cascade Visitors Centre has a delightfully green garden area where a jazz band played and people sat and all looked to be having a wonderful time in the sun. This was not the only contrast, as before the tour I was told I had to wear long pants, flat shoes and everyone was presented with a high-vis vest. We were even ushered over the road to the brewery like school kids by our tour guide. A far cry from the laid back beer and chat the day before.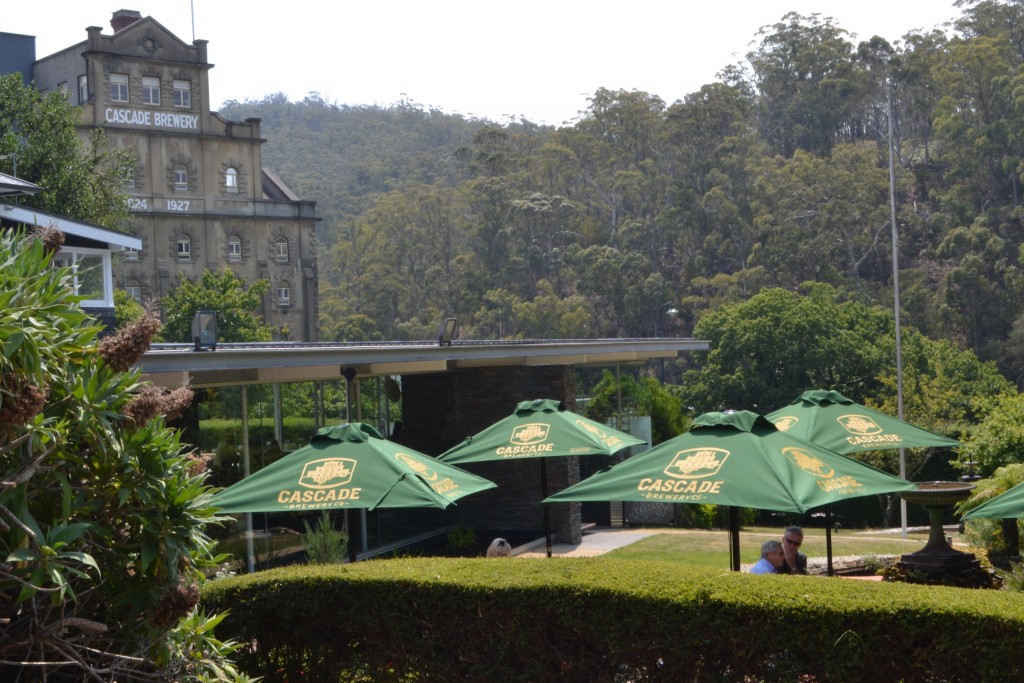 The tour was, admittedly, excellent. The guide hit all the right notes for such a tour of pleasant banter and jokes with the guests and seemingly comprehensive knowledge of the brewery. While clearly working from the company script it never felt rote or tired, and besides some suggestion of of historical inaccuracy the only issues I found were brewing facts were so minor that even mentioning them here would make me look like an insufferable pedant.
There was one other issue that I have asked for clarification on from CUB and that is regarding the malting process. I have since learned that it has been stopped at Cascade, however the tour gave the impression it was still in full swing. A quick google brings up this story  which indicates that it has closed down. I have reached out to CUB for comment and will update accordingly. At time of writing I have not had clarification.
Update: Clarification received on the back of my whinge about them not talking to me in a recent blog post. They do not currently malt on site and haven't for a while.
Regarding the Historical inaccuracy, it seems the founding of the brewery not be as clear cut as it is made out to be on the tour. Fellow beer writer Rick Besserdin visited recently and has noted the same thing. From his blog:
"However, according to the study by Gregory Jefferys, "most of what is accepted as the history of Degraves' early life is either exaggerated, glossed over or just plain false." Jefferys claims that considerable credit should also go to Degraves' brother-in-law Hugh Macintosh. Degraves seems to have been quite a rogue, perhaps not unlike other 'entrepreneurs' who make use of whatever circumstances they can to get ahead."
A couple of other notes about Rick's blog, particularly the Matilda Bay aspect. Our guide was more than open about the Matilda Bay brewing and usage of NZ/US hops in those beers. He made a sneaky joke about it earlier in the day then clarified it later with a full transparent explanation. Maybe in reaction to Rick's questions days prior?
My overall experience was a bit different to Rick's as well and I really enjoyed it – however Rick does do a lot more brewery tours than I. To be honest, I generally can't stand them so maybe my low expectations worked in my favour.
Either way, we agree on one thing – the after tour beers in the garden were lovely for the surrounds and sunshine. The beers themselves aren't anything of note and the tour guide was at pains to say that we should approach the Pale as if it was a lager and not an ale (it's never a good sign when people make excuses for a beer before it's even in the glass) and I was slightly disappointed that the "Bitter" sample I got was from an open bottle that had obviously been open long enough that all I could taste was dull oxidation. When you are so close to the brewery and the beer isn't tasting right, you can't help but feel let down.
Update: It's been pointed out that their Pale Ale is in fact a lager – which makes sense and I probably should've twigged earlier. Given they only talked about one strain of yeast during the tour. Which means all of their beers are using the same yeast. It also shows why as a whole they are pretty indistinguishable. Except the stout, that was ok.
The big takeaway from Cascade and Hobart Brewing Co, however, is that beer and the beer business has always evolved and will continue to evolve. For all my issues with major brewery ownership and their less than inspiring beer, Cascade still has a place in Hobart. While I'm sure the increasing presence of new breweries in Tasmania is raising a few boardroom eyebrows, I hope they  maintain a presence.  I firmly believe local breweries are important to any town's culture and Hobart have had one for almost 2oo years.
Cascade have been doing a long time what Hobart Brewing Co aim to do now. All we can be left hoping is that both operations will be running in another two centuries time.