Sail and Anchor.
This is about to get ranty, but stay with me here because I think it'll be worth it.
Being a kiwi and not too familiar with the history, I've tried to read up on it in preparation for this piece but to be honest, I really hate history.  However, let me try and sum it up for you…
Sail and Anchor was a brewpub in the 80s that brewed their own beer but at some point they started brewing at Feral, and then they stopped altogether, but then Woolworths (the supermarket people) bought a stake and now they are brewed at Gage Roads who Woolworths also have a large percentage of.
I think that's right?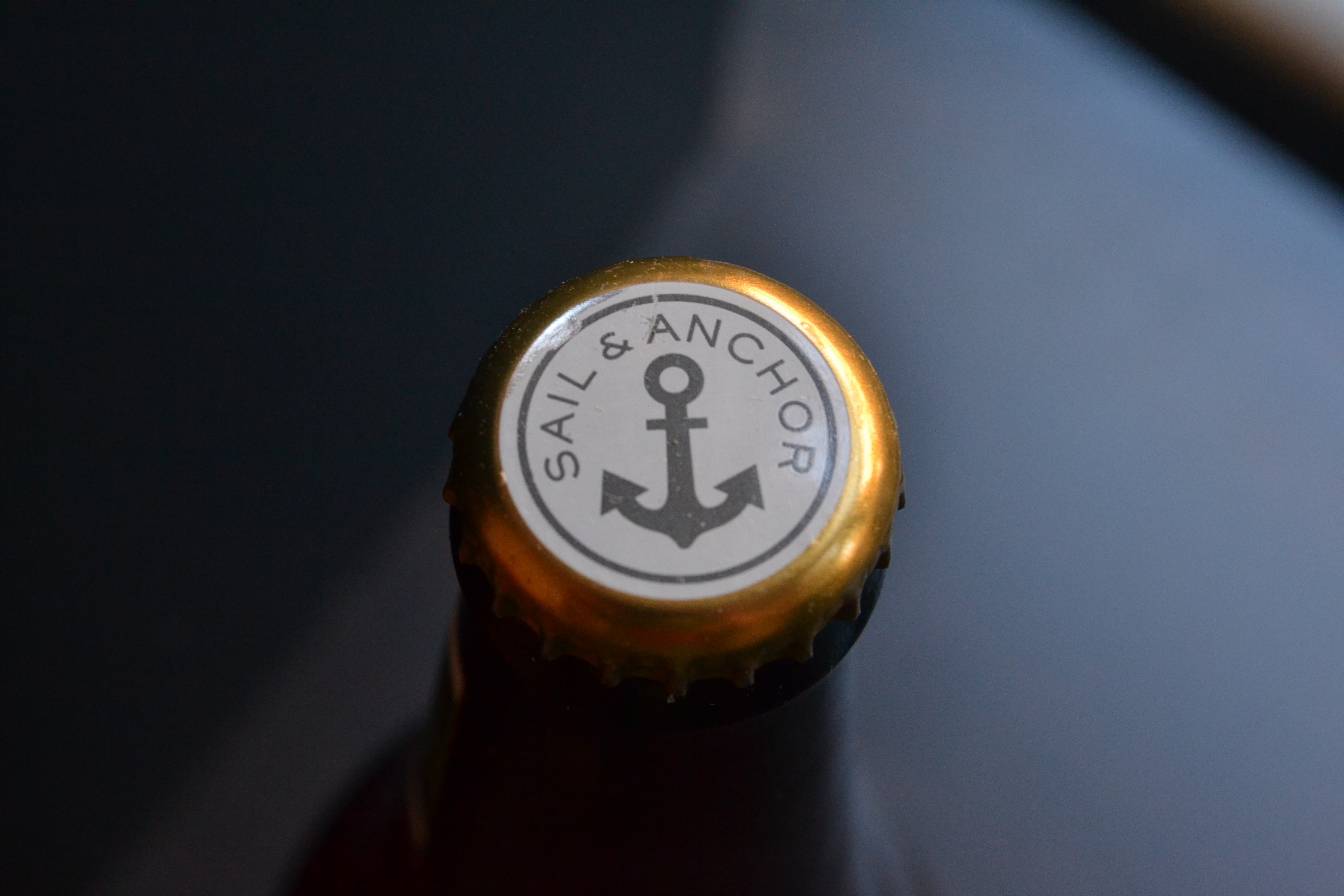 The beer is only sold at Woolworths owned places, however, given the buy-in from a major chain, I was genuinely surprised to see what else was on tap at the Sail and Anchor hotel (see here) and now I don't know if I should dislike them because they are owned by a major company and buy all accounts making fairly middle of the road beer (which is fine, but not my thing)… or should I like them because of the history and the fact they are still supporting excellent independent beer at the bar itself?
Before we go further, the bottle I'm reviewing (and the one I had prior) were PR freebies. I told the PR company (like I always do) that I wouldn't guarantee a review and I will probably be a dick about it if I don't like the beer and because it's their job to get good PR I wouldn't be offended if they didn't want to send me beer still.
But they still did and were very nice about it. They even showed prior knowledge of my blog… and it didn't seem token. Points for that. Most PR don't even reply to my emails.
Based on these factors and the fact that I have no idea where my nearest Woolworth's owned store is (BWS or Dan Murphy's) I figured it's a good beer to take and write about.
It makes a fun narrative at least right?
The other historical part of this is the damn IPA issue.
They mention the history of IPA in their press release but it's probably wrong and even if it isn't I am not going anywhere near it for fear that someone who has read something written by Martin Cornell may pedantically jump down my throat and tell me something more about some sort of historical fact that I'm not interested in.
For those unaware of the controversy around IPA, basically it's one of those ongoing debates about what an IPA was and how it came about.
To put the whole thing in a nutshell, basically; beers with more hops, specifically thrown into the cask, were shipped to India during colonial times . They weren't the only beers shipped there, India wasn't the only place where those sorts of beers were delivered to, and more highly hopped beers existed prior to this happening.
However, at some point the term India Pale Ale became synonymous with highly hopped pale ales.
These days we have a bit of resurgence in the style however now it is best advised they are served fresh rather than shipped to India first.
People are bound to pick out something I got a little incorrect just then and scream at me about how I'm purveying myths about IPA. But honestly, I do not really care.
Right… now we have got all that out of the way. Let's actually talk about what is important here.
Beer.
Not history.
Devil Dodger IPA
Let's start by saying, this beer genuinely surprised me. Firstly, other than the history in the press release, they put the IBU (International Bittering Units ) and the ingredients. That is a plus for me and something we need more of.
For the record:
IBU 59
ABV 5.9%
Colour: Medium Gold
Malts: Vienna, Munich, Pale, Wheat, Caramunich®, Carared®
Hops: Citra, Chinook, Centennial, East Kent Goldings, Cascade.
And that all looks pretty spot on for an IPA.
The second surprise was there was a decent aroma as soon as I opened the bottle. Orange, kiwi fruit and some toffee from the malt. It's not a huge "er meh god" IPA smell but I would be lying if I said it didn't smell pretty damn good.
Pouring crystal clear orange and rust in the glass, it looks like it should and has a solid white head with fairly medium to low carbonation.
It tastes just as good as it smells. Orange, kiwi fruit and toffee. Not bursting in the mouth but this is extremely well balanced. It dries quickly and there is even a solid bitterness to back it up.
Unfortunately that bitterness is maybe a little short lived. If they bumped this up 5-10 IBU it would be much better as it just slightly dies off just as you try to enjoy it.
However, that is me being very pedantic and both bottles have gone down exceptionally quickly.
Ok so, 59 IBU, 5.9% ABV, citrus and fruit aroma, malty sweetness, copper/rust colour, medium to light bodied, dry, lingering but not harsh bitterness….
Looking at the BJCP for an American IPA, this hits all the marks. http://www.bjcp.org/2008styles/style14.php.
It may not be as aggressive as the modern IPA lover is expecting but it's undeniably a solid IPA with all the characteristics you would expect.
My ranting and cynicism about what is essentially a "supermarket beer" (Credit to James from BeerBarBand for the term) is all really beside the point.
This is good beer.
I took a look at Dan Murphy's site and there are 3 other popular Australian IPAs that I think are fair to compare this to. Feral, Mountain Goat, and Little Creatures.
I would say find your nearest Dan's and get one of each and taste them side by side. Just don't be surprised if you enjoy this more than the Mountain Goat or the Little Creatures.