The Story
For the second year in a row during Good Beer Week, Nomad and Stone hooked up for a collaboration brew. Last year's AiRyEvil was a spicy smash hit so we kept Rye in the grain bill. It's with Stone so it had to be an IPA. But apart from that all bets were off.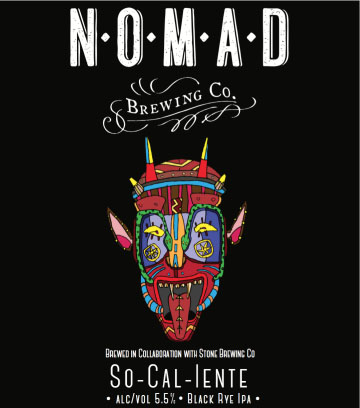 The Beer
Name:So-Cal-Iente
Style: Black RyE IPA
ABV: 5.5%
"When you dance with the devil, the devil doesn't change. The devil changes you.' When Stone first came to Nomad this was certainly true. Their legendary hop forward know-how gave us the rich, resinous IPA we called AirRyeEvil. But this time, when we pulled on our dancing shoes with the legendary Steve Wagner to create this spicy, malty Black Rye IPA, we made sure we led! Sure, our diabolical friends smuggled in some Anaheim chillies and US Orange zest but by using 100% NZ hops as well as de-bittered black, crystal and caramel malts, the West Coast style was tempered with an Antipodean twist.
The Event
To celebrate we're holding a US/ meets AU inspired pig out on Sat. 23rd July from midday. Luscious cakes have gone crazy making a chocolate, chilli and orange mud cake lamingtons! (www.lusciouskikicakes.wix.com/lusciouskikicakes)
Millins Fine Foods are brining the meat for BBQ pulled pork rolls (www.millins.com.au/)
The Moon Hounds will be bringing the Blues! This US/ Aussie Blues band are brewery favorites and will be playing from midday (https://www.facebook.com/themoonhounds/)
And of course all this will be washed down with the star of the show, the So-Cal-Iente!
http://www.nomadbrewingco.com.au/