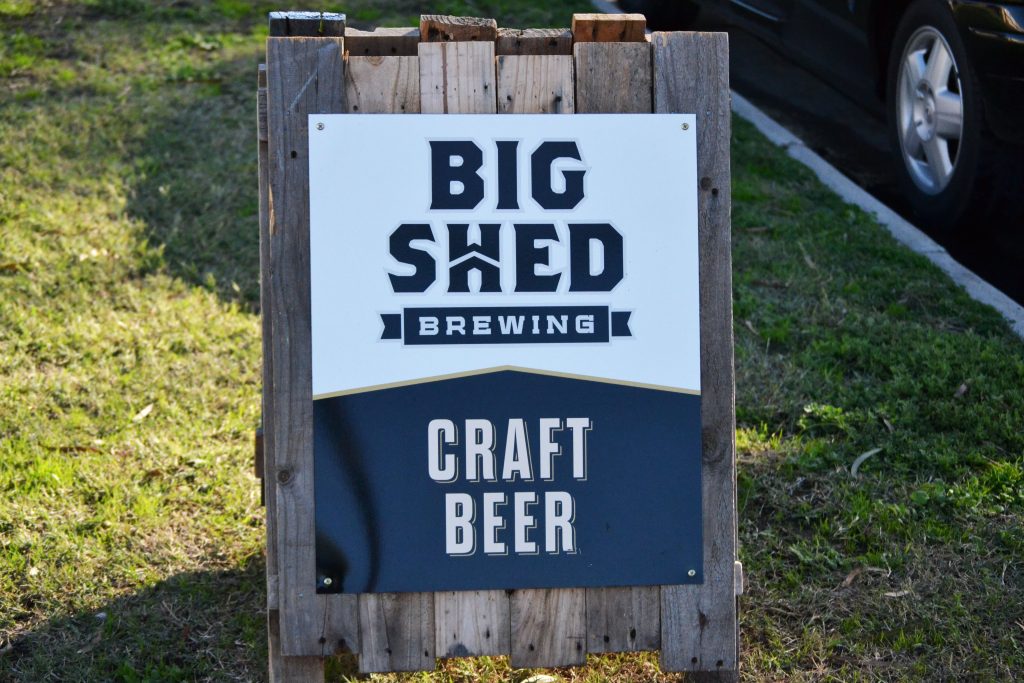 If I was to be completely honest, visiting Big Shed while in Adelaide was a bit of an afterthought rather than a must do.
Of the three beers I have tried of theirs, two of those were brewed for the Great Australasian Beer Spectapular. The third was their well regarded IPA known as Californicator. The GABS beers were firmly in the "dessert" beer camp, with one an homage to Golden Gay Time (the Australian icecream), the other, Cheery Ripe chocolate bars. While both were really good as festival samples, sweet dessert beers aren't really my thing. My past experience with their IPA was that it was a bit chewy with malt and not super "West Coast" style as advertised.
The brewery itself is in an industrial area, a little way out from Adelaide's CBD. They open daily and the bar is manned by the brewery staff who at times had to down tools to pour our beers.
The drinking area is mostly high tables, colourful stools, a few posters on the wall and not much else. While that might sound like a negative, it's a simplicity that works and means the stainless brewery steel stands out as a great backdrop for a couple of afternoon beers.
Any misgivings about the beer were completely unfounded. The F*** Yeah Pale Ale was fresh, bitter, and easy drinking. I got a touch of aniseed  which I didn't love, but Dave really enjoyed it and it was his pick of the day. I think the aniseed is a personal palate thing I have with some hop varieties rather than a flaw.
The Californicator taster I had completely turned me around about that beer. The malt bill seemed a lot leaner and it was bursting with fresh citrus, a touch of pine and a clean bitter finish. It's what I wanted it to be the first time. Maybe there is something to the old German saying about drinking beer in the shadow of the brewery?
The other surprises were the two GABS beers. While loaded with sweet dessert aromas, their flavour was more in the dry, roast and chocolate realm . The lactose was slightly too much for me in the Golden Shed Time but it was Dave's pick of the two. The Beery Ripe Porter was a winner from start to finish.
As a whole, there was nothing to dislike about our visit. While brief, the beers were exemplary, the tasting paddles good value, and the experience genuine. That's all I ever want when visiting a brewery.
http://bigshedbrewing.com.au/